Download FREE – Mac game – Project Hospital 1.2.20669h1 (39925) !
Languages: English, French, German, Traditional Chinese, Spanish, Turkish, Simplified Chinese, Japanese, Korean
Version: GOG DRM Free v1.0.35 (15.06.2020, last version)
Recommendation: You may find more Premium Adobe assets (Photoshop actions, Lightroom Presets, After Effects Templates, Premier Pro Transitions,... LUTs, Sound Effects, and many premium Tutorial Courses) for Free Download from one of our other sources here: https://gfxdrug.com (was adobedownload.org).
Coffee Talk is a game about listening to people's problems and helping them by serving up a warm drink out of the ingredients you have in stock. It is a game that depicts lives as humanly as possible, while having a cast that is more than just humans.
Immerse yourself in the stories of alternative-Seattle inhabitants, ranging from a dramatic love story between an elf and a succubus, an alien trying to understand humans' lives, and many others modern readers will find strongly echo the world around them.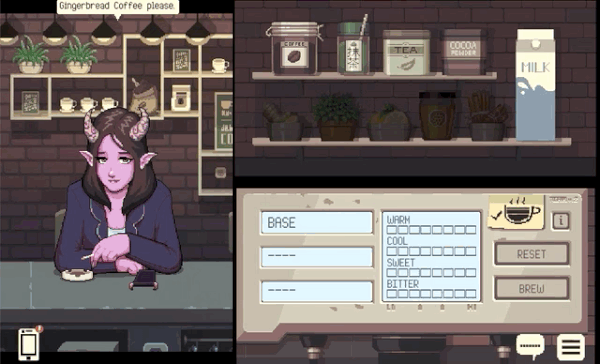 The game features:
Tales of people from an alternative-Seattle, a city where elves, orcs, mermaids, and many other fantasy races live together with humans in a modern world we will all find familiar
Branching storylines, where the branches are determined not by the dialogue options you choose, but from how you serve your café customers
90's anime-inspired pixel art visuals and chill vibes-inducing color palette help to immerse you in the game's world
Selection of jazzy and lo-fi music to accompany the late night warm drinks and conversations
An experience to make you think, feel, and rest both your body and your soul
Steam Store: https://store.steampowered.com/app/914800/Coffee_Talk/
Home Page: http://coffeetalk.info/
CAN NOT DOWNLOAD: Some probably encounter the following error: This site can't be reached ...sundryfiles.com's server IP address could not be found. DNS_PROBE_FINISHED_NXDOMAIN. In this case, please use Google DNS and you will get rid of trouble.
If downloaded file can not be extracted (file corrupted...), please make sure you have downloaded the file completely and don't use Winzip, it sucks! We would recommend using The Unarchiver.
By reason, the App does not work and can not be opened. Mostly, just Disable the Gatekeeper, and you get rid of troubles.