Download FREE – Mac game – Deadly Days 1.4.3.2 (38106)!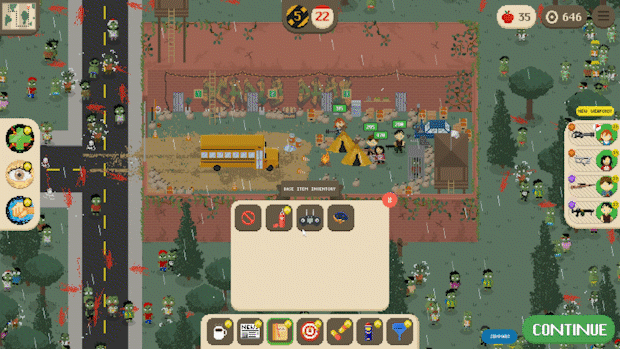 Deadly Days
 is a unique strategic rogue-lite in the zombie apocalypse. Manage and protect a group of survivors and help them to stop the catastrophe. Discover and use a large number of wild and crazy objects, even wilder and crazier survivors, special abilities, and deadly weapons.

Recommendation: You may find more Premium Adobe assets (Photoshop actions, Lightroom Presets, After Effects Templates, Premier Pro Transitions,... LUTs, Sound Effects, and many premium Tutorial Courses) for Free Download from one of our other sources here: https://gfxdrug.com (was adobedownload.org).
60 crazy objects that make every game unique, including tooth paste
30 powerful special abilities that can dramatically alter the outcome of fights
Three different specialties in which you can activate new abilities, survivors, objects, and types of weapons
25 types of weapons with randomly generated modifications
Procedurally generated cities and missions
50 different survivors with 50 different abilities
More than 10 different types of zombies who want only one thing: brains
And three bosses who must be vanquished at the end
Over 45 achievements that need to be unlocked
Lovingly crafted pixel art
Integrated twitch features – viewers become survivors and decide which mission should be taken on next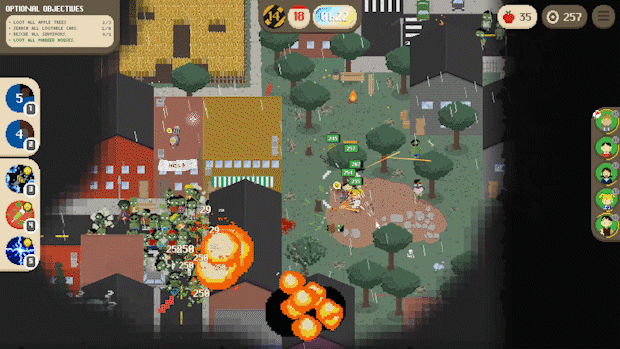 Use what you find
For every attempt to save the world, you need to find the best combination of objects, special abilities, and weapons. You must use what you get. Endless airstrikes or an army of rats? There are many paths to Rome, but you decide.
Search cities and conquer buildings
The cities are created procedurally, allowing for endless combinations. Plunder the cities as quickly as possible, otherwise an exploding zombie might blast you to pieces, or a zombie on steroids might stomp you to dust. Be careful! Very dangerous hordes of zombies await in the night.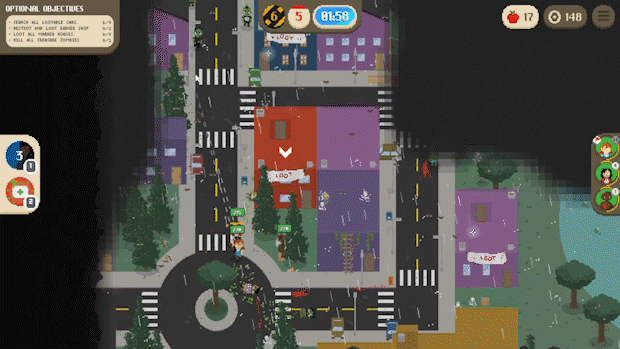 What happened?
Shortly before the aplocalypse begins, the fast-food chain MKing brings out a new burger. The meat includes a secret, addictive ingredient to increase profits. The plan works. Over time, however, the drug, leads to the shutting down of all areas of the brain except for the need for fresh meat. Lots of meat! If that's not bad enough, the disease also prevents consumers from dying a natural death – violent means are the only option
SYSTEM REQUIREMENTS
OS: 10.11 or newer
Processor: 2 GHz, 64bit
Memory: 2 GB RAM
Storage: 1 GB available space
Languages: English, French, German, Italian, Japanese, Korean, Polish, Portuguese, Russian, Simplified Chinese, Spanish
Version: GOG DRM Free v1.5.4 (39162)
Steam Store: https://store.steampowered.com/app/740080
CAN NOT DOWNLOAD: Some probably encounter the following error: This site can't be reached ...sundryfiles.com's server IP address could not be found. DNS_PROBE_FINISHED_NXDOMAIN. In this case, please use Google DNS and you will get rid of trouble.
If downloaded file can not be extracted (file corrupted...), please make sure you have downloaded the file completely and don't use Winzip, it sucks! We would recommend using The Unarchiver.
By reason, the App does not work and can not be opened. Mostly, just Disable the Gatekeeper, and you get rid of troubles.