FREE Download – Mac game – Gladiabots 1.4.28 Full version!
Gladiabots is a robot combat strategy game in which you carefully construct the AI of your robot squad and send them into the battle arena. Improve, refine and repeat until you outsmart all your opponents and friends online.
Recommendation: You may find more Premium Adobe assets (Photoshop actions, Lightroom Presets, After Effects Templates, Premier Pro Transitions,... LUTs, Sound Effects, and many premium Tutorial Courses) for Free Download from one of our other sources here: https://gfxdrug.com (was adobedownload.org).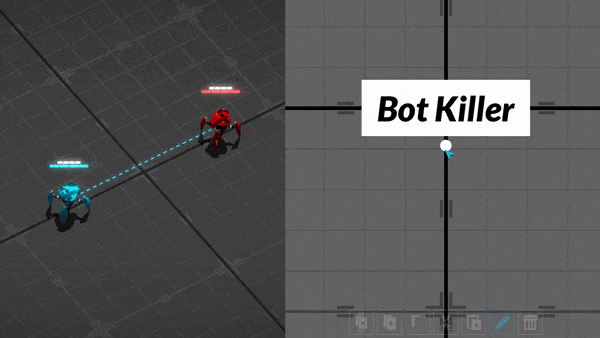 Features:
Create your own AI and watch your robots execute it in the arena
Fix it, improve it and repeat it until you outsmart all your opponents
Simple and powerful AI programming system offering millions of possible combinations (with no programming skills required)
Create and customize your robot crew
Single player campaign with hundreds of solo missions
Online multiplayer career mode featuring, ranked, unranked and private matches
3 distinctly different game modes: elimination, domination and collection
Create and compete in tournaments
Asynchronous multiplayer – battle friends even if they are not online
Sandbox mode in which you control both teams to test your tactics
Rank up and earn points to unlock new robot skins
Optimization Pack Content
Buy the "Optimized Edition" bundle and get the game + the content of the "Optimization Pack" DLC.
PS: It's also a good way to give extra support to the dev 😉
30 000 Credits you can use to unlock bot skin parts (equivalent of 60 colors / 20 color patterns / 30 textures)
3D printing models of the different bots (preview: https://sketchfab.com/gfx47/collections/gladiabots)
10+ exclusive wallpapers (in 4K resolution)
1 exclusive player icon
You will find the DLC files in the game installation folder.
For most people it should be C:/Program Files (x86)/Steam/steamapps/common/Gladiabots.
Home Page: https://gladiabots.com/
CAN NOT DOWNLOAD: Some probably encounter the following error: This site can't be reached ...sundryfiles.com's server IP address could not be found. DNS_PROBE_FINISHED_NXDOMAIN. In this case, please use Google DNS and you will get rid of trouble.
If downloaded file can not be extracted (file corrupted...), please make sure you have downloaded the file completely and don't use Winzip, it sucks! We would recommend using The Unarchiver.
By reason, the App does not work and can not be opened. Mostly, just Disable the Gatekeeper, and you get rid of troubles.