Download FREE – Mac game – Police Stories 1.1.3.2 (38727) Full version!
Languages: English, French, German, Spanish, Japanese, Korean, Russian, Simplified Chinese, Portuguese, Polish
Version: GOG DRM Free v1.1.3.2 (38727)
Recommendation: You may find more Premium Adobe assets (Photoshop actions, Lightroom Presets, After Effects Templates, Premier Pro Transitions,... LUTs, Sound Effects, and many premium Tutorial Courses) for Free Download from one of our other sources here: https://gfxdrug.com (was adobedownload.org).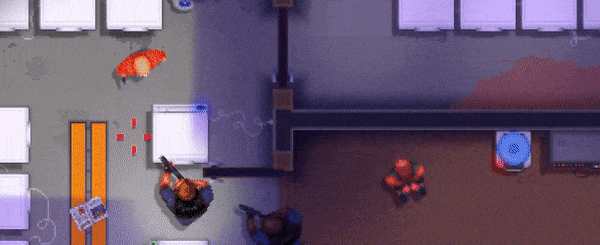 Inspired by SWAT 4 and gritty police TV shows, Police Stories is a fresh take on top-down shooters with an emphasis on tactics that forces you to make split second decisions. Neutralize criminals, rescue civilians and defuse bombs in Single Player mode or Online Co-op. And remember – shooting first is not an option!
Unforgiving and tense, each mission tells a story of two police operatives – John Rimes and Rick Jones, filled with infiltrating gang hideouts, rescuing hostages, making arrests and other life-threatening situations.

The Surrender System allows you to apprehend the suspects without resorting to violence. Fire a warning shot near them or engage them in melee combat – those are just some of the ways you can make them submit.
Issue commands to your fellow cop Rick Jones. Make sure to use him wisely – and who knows, he might save your life in return.
Randomly placed criminals, hostages and evidence make every level run unique. The placement changes every time you restart, leading to new interesting situations and opportunities.
As a law enforcement officer, you will have access to end-of-the-line police equipment, such as under-the-door cameras, door blast charges and many others.
Various types of lawbreakers, from small petty criminals to well organised gangs and terrorists. Each type has not only unique weapons, but different behaviour and shooting skill.
Complex Tactical Gameplay: Try not to get spotted, don't waste bullets, regularly check your surroundings and make sure to take criminals down quietly.
All your actions are scored in real time. Playing aggressively won't get you a high enough result to start the next mission – so keep that in mind!
Co-op. Complete mission together for better scores and more fun!
SYSTEM REQUIREMENTS
OS: Mac OS 10.7+
Processor: Intel Pentium 2.9 Ghz or equivalent
Memory: 2048 MB RAM
Graphics: 512 Mb DirectX 9 compatible video card with shader model 3.0 support
Storage: 400 MB available space
Steam Store: https://store.steampowered.com/app/539470/
Home Page: https://hypetraindigital.com/police-stories/
CAN NOT DOWNLOAD: Some probably encounter the following error: This site can't be reached ...sundryfiles.com's server IP address could not be found. DNS_PROBE_FINISHED_NXDOMAIN. In this case, please use Google DNS and you will get rid of trouble.
If downloaded file can not be extracted (file corrupted...), please make sure you have downloaded the file completely and don't use Winzip, it sucks! We would recommend using The Unarchiver.
By reason, the App does not work and can not be opened. Mostly, just Disable the Gatekeeper, and you get rid of troubles.