Download FREE – Mac game – Underhero 4.1.3 (39634) !
Languages: English
Version: GOG DRM Free v4.1.3 (39634)
Recommendation: You may find more Premium Adobe assets (Photoshop actions, Lightroom Presets, After Effects Templates, Premier Pro Transitions,... LUTs, Sound Effects, and many premium Tutorial Courses) for Free Download from one of our other sources here: https://gfxdrug.com (was adobedownload.org).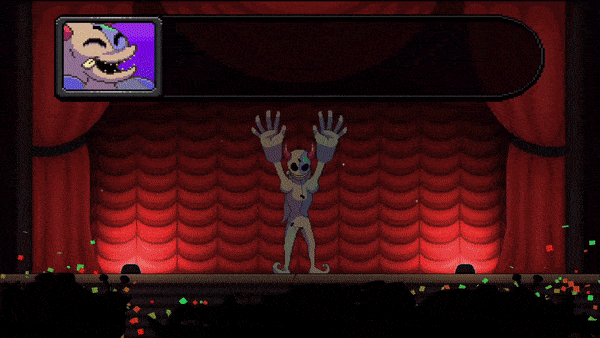 Underhero
 is a 2D side-scroller RPG adventure game with turn-based combat… without the turns! Precisely timed actions are your most powerful weapons. It tells an intriguing and mysterious story, full of silly characters brimming with personality, quirky dialogue, and lots of weird humor.
STORY:
Inspired by Paper Mario and other Nintendo RPGs. It tells the story of a world where the chosen hero has failed and an underling of the main villain takes his place as the new "hero".
Join Elizabeth IV and the little Masked Kid as they journey across the Chestnut Kingdom to defeat your evil boss, Mr. Stitches! Meet friends, foes and other weird characters in the mysterious world of Underhero.
FEATURES:
Turn-based combat with a twist: there are no turns! Use your reflexes to evade, and your timing to attack or parry! We call it timing-based combat.
A sidescrolling RPG adventure full of beautiful pixel art and cartoony aesthetics.
A wonderful original soundtrack composed by Stijn van Wakeren.
Enemies consider you their ally, so talk to them in-battles for tips, jokes, and lore!
Hit enemies with the beat of the music for Groovy~ critical hits!
Explore worlds sprinkled with many hidden secrets.
Fun and intense boss battles!
A story shrouded in mystery, with many twists and turns…
Steam Store: https://store.steampowered.com/app/573320/Underhero/
Home Page: https://underherogame.com/
CAN NOT DOWNLOAD: Some probably encounter the following error: This site can't be reached ...sundryfiles.com's server IP address could not be found. DNS_PROBE_FINISHED_NXDOMAIN. In this case, please use Google DNS and you will get rid of trouble.
If downloaded file can not be extracted (file corrupted...), please make sure you have downloaded the file completely and don't use Winzip, it sucks! We would recommend using The Unarchiver.
By reason, the App does not work and can not be opened. Mostly, just Disable the Gatekeeper, and you get rid of troubles.