Download FREE – Mac game – Urtuk: The Desolation 0.87.03.35 Full version!
Languages: English, Russian, Polish, French, Simplified Chinese
Version: GOG DRM Free v0.87.03.35 (early access)
Recommendation: You may find more Premium Adobe assets (Photoshop actions, Lightroom Presets, After Effects Templates, Premier Pro Transitions,... LUTs, Sound Effects, and many premium Tutorial Courses) for Free Download from one of our other sources here: https://gfxdrug.com (was adobedownload.org).
Approved by staff as early access
Urtuk is an open world, tactical turn-based RPG in a low-fantasy setting.
Guide your band of adventurers through the ruins of an ancient world. Recruit new followers, loot the corpses of your fallen foes, and do your best to survive in this harsh and unforgiving realm.
Features
Survival RPG with focus on combat and open-world exploration in a dark fantasy setting
Turn-based, tactically rich combat on large maps, with multiple environmental factors and a carefully crafted class/skill system
Procedurally generated survival campaign
Extract character upgrades directly from your fallen enemies
All graphical assets are hand drawn, from characters, monsters and objects, to the world map and battlefields
Dynamic battles
Ram your enemies onto spikes or over high cliffs! Shield your allies and counterattack your enemies when they strike. Use your archers for ranged support while performing melee attacks. Or execute one of many possible combo attacks!
Ram your enemies into environmental hazards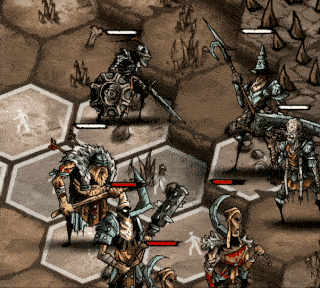 Off you go!

Characters
Extract skills and traits from fallen enemies and apply them to your units! These custom abilities can totally change a character's role in combat. Extracted abilities include pushing the enemy on a critical hit, retaliating when being hit, avoiding a lethal strike, and performing a lifestealing counterattack against your foe!
Your characters also learn new skills when executing specific actions in battles. Pay attention and be rewarded!
Story
The game world is a place of toil, suffering and darkness. There are no elves, dwarfs, dragons or other classical fantasy creatures. There are some light magical elements, but no overwhelmingly powerful sorcerers either.
Many centuries past, Giants roamed the world, living peacefully alongside humans until the war between the two species left the Giants extinct. Some years ago, a cabal of scientists discovered a process to extract the Life Essence of the ancient Giants from their bones.
This mystical fluid promised to cure many different diseases, mend grievous wounds, and perhaps even halt the aging process. Unfortunately, instead of improving the health of the subject, very often the serum would have the opposite effect, inflicting a mutation or lethal disease. Until the exact nature of this wondrous medicine can be determined, experiments on unwilling subjects continue.
The story begins when the main character, Urtuk, escapes from the Sanatorium, a facility where these experiments are carried out on abducted commoners. Urtuk suffered a severe mutation from his exposure to the Life Essence, and with every passing day his health worsens. Now he wanders the world in search of a cure. Unless he can find a way to counter his evolving mutation, Urtuk must eventually die.
For a quick video introduction of Urtuk, please head to the screeenshot/video section and select the second video. It is a quick intro to combat mechanics in the game.
SYSTEM REQUIREMENTS
OS: OSX 10.8
Processor: 1.2 Ghz
Memory: 2 GB RAM
Graphics: OpenGL 2.0 compatible video card with 256 MB
Storage: 600 MB available space
Steam Store: https://store.steampowered.com/app/1181830
Home Page: https://www.urtuk.com/
CAN NOT DOWNLOAD: Some probably encounter the following error: This site can't be reached ...sundryfiles.com's server IP address could not be found. DNS_PROBE_FINISHED_NXDOMAIN. In this case, please use Google DNS and you will get rid of trouble.
If downloaded file can not be extracted (file corrupted...), please make sure you have downloaded the file completely and don't use Winzip, it sucks! We would recommend using The Unarchiver.
By reason, the App does not work and can not be opened. Mostly, just Disable the Gatekeeper, and you get rid of troubles.